Floriade Expo 2022
A one in a decade event showcasing incredible architecture, sustainable technology, and beautiful gardens.
For six months, from 14 April 2022 onwards, Almere will be the stage for the International horticulture exhibition Floriade Expo 2022. The Floriade park will be a celebration of green, sustainable technology. New green technologies for food, energy and health will be studied and tested at this living laboratory. You will be touched by what you see, smell and taste. Inspiring gardens, conferences, workshops and exhibitions will be rounded out by impressive attractions, surprising tasting sessions, art and culture.
Floriade Expo 2022 will inspire you to live a greener, healthier life. This makes a day trip to the Floriade more than just glorious greenery. It provides the stage for Dutch horticulture – in cooperation with over 400 national and international participants – to showcase creative, green solutions that make our cities more fun, more liveable as well as more sustainable: Growing Green Cities.
The International horticultural exhibition Floriade is only held once a decade. So don't miss it. Visit Floriade Expo and immerse yourself in green starting from 14 April 2022.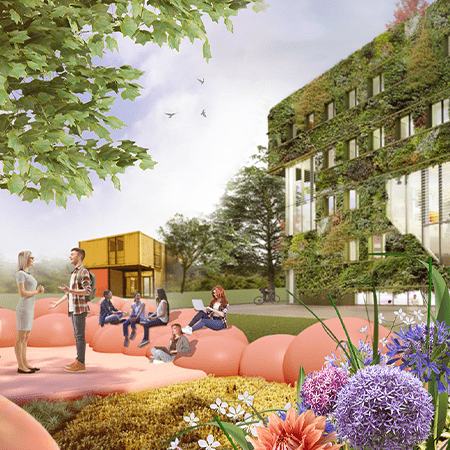 The Floriade park is a living laboratory where you are moved by everything you see, smell and taste. It features inspiring conferences, workshops and exhibitions alongside impressive attractions, surprising tastings, art and culture.
Wander through the greenhouses and gardens, and taste all the goodness nature has to offer. A journey of discovery taking in novel attractions, innovative entries from around the globe, inspiring events, a unique collection of plants and trees and much, much more.
• 30 kilometres from Amsterdam
• 600,000 m2/60 hectares
• Over 400 national and international participants
The star of Floriade park is the arboretum, a beautiful living laboratory that is home to trees, plants and flowers that all contribute positively to healthier, greener cities, but there is plenty else to do on your day out. Take a trip to the future aboard the cable car along its 850-metre line. An example of alternative urban transport. Sustainable, fast and providing a fabulous bird's-eye view of the park. For some art and culture, enjoy the extensive art and culture programme that will feature exhibitions, live music from classical to jazz to entertainment orchestras
For lovers of incredible architecture, discover green buildings that demonstrate how well architecture and green living go together, with a tower block merging into its greens surroundings, and the beauty and smart application of bio-based construction in The Growing Pavilion, built using a large number of bio-based materials including timber, hemp, mycelium, cattails and cotton.
Children can have fun at the playground simultaneously learning about the cycle of life. Just like the tomato plants, children can catch the wind on the swinging beams of the climbing frame, whilst the tree hut helps them understand how mushrooms find their way at the foot of the trees. They also find out why spiders, ladybugs and aphids can't live without each other.
To book your tickets to the Floriade 2022 Expo, just visit the link below where you can purchase tickets directly through their website.
There is no easier way to get to Floriade Park then by getting a relaxing P&O Ferry crossing to Rotterdam, with the port being just an hour and 30 minute drive from the expo!
There is a large car park at Floriade Park, and a shuttle bus to take you directly to the entrance.
Once you arrive at Europoort, get on the A15 road from Elbeweg, and continue on to the A4. Stay on the A4 as you follow onto A10, A1 and A6 to Veluwedreef/Waterlandseweg/N305 in Almere Haven, Almere. Take exit 5-Almere-Stad from A6 Drive towards Almere. Then take the N305 (Veluwedreef/ Waterlandseweg) on the left. Follow the 2 left lanes to turn left to the Veluwezoom. At the roundabout, take the 2nd exit and continue all the way to the end of the road. There you turn left to the car park at Veluwezoom 15.
Drive all the way to the end in the parking lot and park your car there. You can enter through the door at the front of the white office building. Floriade Expo 2022 can be found on the ground floor of this building.
For more information, please visit the Floriade Travel By Car section on their site, and view the trip on Google Maps.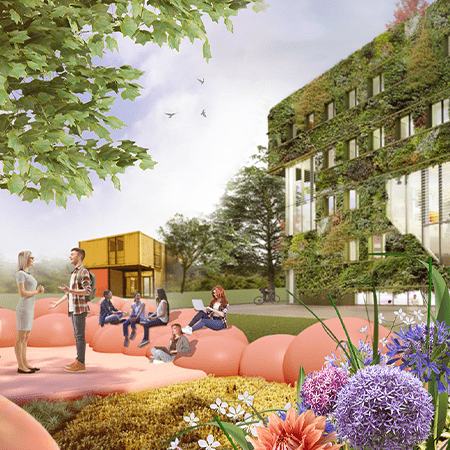 Need help ?
View our Frequently Asked Questions before travelling with P&O Ferries.
Help Centre
Contact us