Hulloween Party
Join us onboard, Sunday 31st October 2021 for a frightfully fun day!
Buy Tickets
Hulloween Party
It's the most frightful time of year! Gather your little monsters for a ghoulishly good day on board the Pride of Rotterdam, Sunday 31st October 2021!
Enjoy lots of tricks and plenty of treats as we bring you a fun packed day full of Halloween themed activities. With spooky crafts, a devilish disco, gory games and a spellbinding magic show hosted by Puzzling Paul and Presto the Rabbit, we have fun and spooks for all ages.
Plus! There's a frighteningly fun fancy dress competition – just come in your scariest outfits to be in with a chance of winning one of our amazing prizes. Whether you're a crafty witch or a character from a mystical world, our team of Spooky Face painters will be able to help transform you into a character of your choice.
That's not all, we have a horrifyingly good buffet lunch included in your ticket price, with lots of tasty treats to choose from. Please make sure to choose either the 11:30 or 12:30 sitting when booking your tickets. Our Show Bar will also be open to purchase soft and alcoholic beverages and any additional snacks.
So what are you waiting for, throw on your cape and book your tickets today, see below for more details and pricing!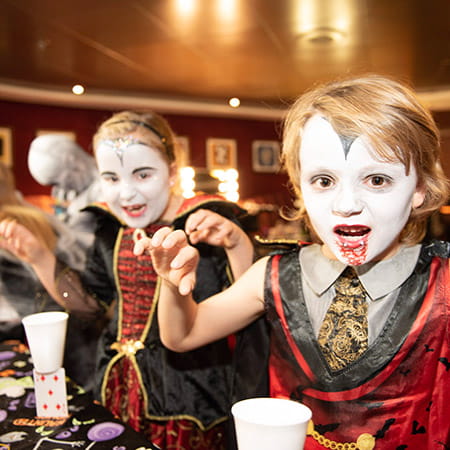 Date:
Sunday 30th October 2022
Location:
Hull port event – ship to remain in port
P&O Ferries
Terminal 1
King George Dock
Hedon Road
HU9 5QA
On Board Location:
Show Bar
Ship:
Pride of Rotterdam
Timings:
11:00 - 15:00
Prices:
Adult - £21.59*
Child - £28.79*
Infant (0-3) - FOC
*Price inclusive of VAT
Our World Duty Free beauty and confectionary shops will be open for the duration of the event for you to grab yourself a bargain. Why not reserve you're shopping online before the event, and collect in store.
Did you know we also have a Reserve and Collect service? Start browsing the Reserve and Collect website today ahead of the event, place your order and collect in store! Discover 1000s more products at great value prices.
Please Note: Our tobacco, beers, wines & spirits shop and the casino will be unavailable during the event due to customs regulations.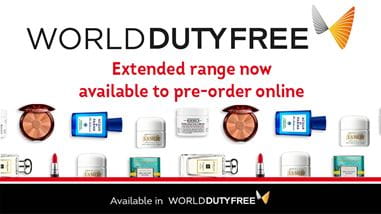 10:30 – Arrival
So that we can ensure this event can start on time, please ensure you arrive 30 minutes before the start time. All guests will need to sign in, and show some form of photo ID at security before boarding the ship.
11:00 – Welcome aboard
Jump on board and let the fun begin.
11:00 – 15:00 – WDF Shopping
Make sure to make some time for some shopping in our WDF beauty and confectionary shops. From your favourite fragrances to sweet treats, you'll find plenty of great products on board that can't be found on the high street
11:30 – Buffet Lunch
Booked for the 11:30 lunch sitting? Head to the Kitchen restaurant and enjoy our spookily themed buffet.
11:30 – Spooky Crafts, Games and Face Painting
Head to our Show Bar for lots of Halloween themed fun
12:30 – Buffet Lunch
Booked for the 12:30 lunch sitting? Head to the Kitchen restaurant and enjoy our spookily themed buffet.
12:30 –Spooky Crafts, games and Face Painting
We have plenty of Halloween themed activities taking place in our Show bar to entertain your little devils!
13:30 – Mini Disco and Games
Head to the dance floor as we will be playing some fangtastic tunes, playing gory games and the winner of our fancy dress competition will be announced.
14:00 - Themed Magic Show
Join Alex Lodge, a member of the magic circle. Children and adults will be amused and awed by the spellbinding magic.
15:00 – Home Time
From everyone at P&O Ferries, we hope you had a great time and we look forward to seeing you on another event in the future.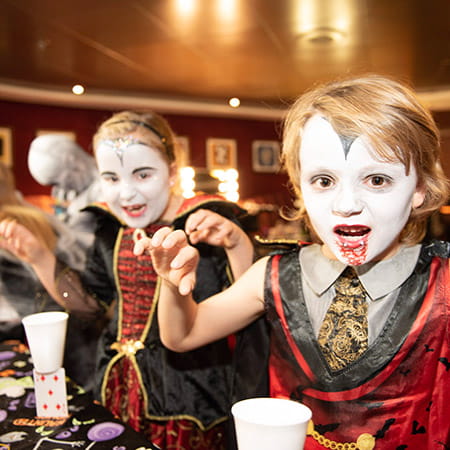 Need help ?
View our Frequently Asked Questions before travelling with P&O Ferries.
Help Centre
Contact us